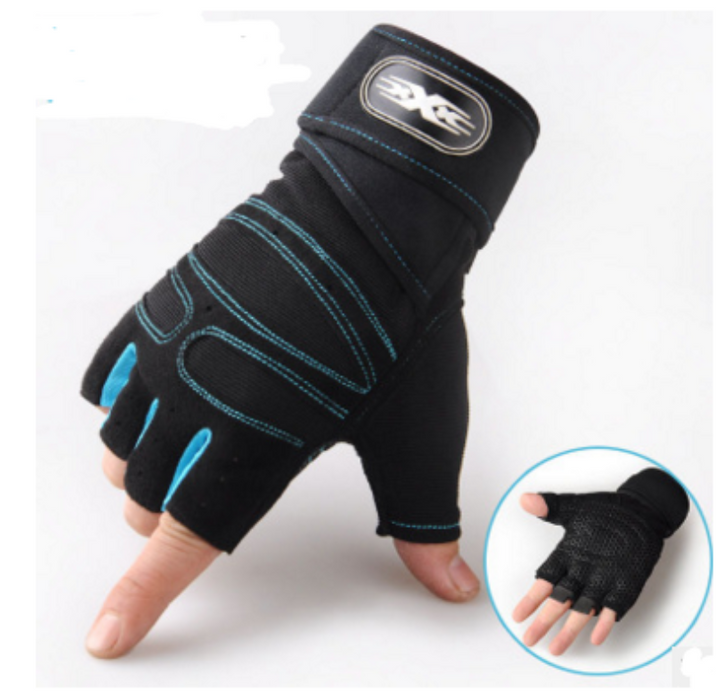 Workout Gloves
Sale
Sale
Original price
$19.99
-
Original price
$19.99
Whether you're weightlifting, cycling, or bodybuilding, these are the gloves that can do it all which makes them our best overall selection. These "Workout Gloves" prevent calluses, support your wrist and help with hygiene when sharing equipment at the gym.

Full Palm Protections:
We use tens of thousands of consumer data samples, combined with research by experts in physiology, to design the ergonomic palm of these gloves. It protects the joints and muscles of the palm more scientifically. The padded palm will buffer the impact of the sports apparatus, and protects your hands from calluses and blisters.
Exquisite Craftsmanship:
Designed with high-quality lightweight microfiber, they offer the utmost durability, so you can expect them to do the job well for a long time. The back of your hand is covered with microfiber fabric, along with breathable elastic thread fabric, while the palm comes with 3D offset printing anti-slip mesh. The palm design  increases the friction and provides reliable stability in extensive movement and great grip control.
Comfortable & Ventilated:
The backside of these Workout Gloves is made of very skin-friendly and elastic Lycra fabric, and the gloves use the attractive but functional design, with perfect breathability and freedom during the working out, allowing a long time wearing and providing more flexibility. It's also definitely a good choice as a workout gift.
Convenient Design:
The ergonomic design and the rings at the top of the covers of the middle finger and third finger can make it easy and convenient to put on and take off. Plus, the long nylon clasp around your wrist can help you adjust the tightness easily and provide wonderful support for your wrist.
Outstanding Quality: 
We believe in earning your trust and loyalty. That's why our Workout Gloves are the finest in the industry, surpassing all other brands out there. Moreover, We ensure that the products you receive from us are made of high-quality materials and are free of defects.
Why You Have It:
It is time to go cycling. You put on these half finger gloves and then hold the handlebar, bringing a sense of comfort

The long nylon clasp around your wrist can help you adjust the tightness easily and provide wonderful support for your wrist

The back of your hand is covered with microfiber fabric, along with breathable elastic thread fabric, while the palm comes with 3D offset printing anti-slip mesh

The ergonomic design and the rings at the top of the covers of the middle finger and third finger can make it easy and convenient to put on and take off

A wonderful helper for weight lifting, fitness, and cycling
Specifications:
Material:

microfiber fabric, Elastic Fabric and anti-slip mesh
Color:

Bracer red black half finger, wrist light blue half finger, wrist dark blue half finger, wrist black half finger
Size:

M, L, XL
Palm circumference

: M: 18-21CM L: 21-23CM XL: 23-25CM
Package Contains: